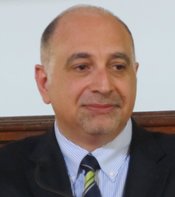 Elie Haddad, President
Every year is another exciting year at ABTS as we watch how our story is unfolding. It's a remarkable thing to be rooted in God's story, having God guide and point the way on a regular basis. We're accomplishing things that we never planned or even dreamed of. This basically means that God is accomplishing things in and through our ministry. This makes it pretty easy to "press on". All we have to do is follow God's prompting, faithfully. Following is a list of some of the exciting things that are taking place at ABTS.
We are currently implementing for the first time the third year of our new integral curriculum. This new curriculum has already proven to be effective for equipping leaders for the Church in the Arab world. The implementation of this curriculum is being watched by many academic institutions around the world. As of spring 2015, all of our six on-campus degrees are accredited by the European Evangelical Accrediting Association (EEAA).
Another exciting thing is the group of students that we have this year. All of our students are leaders or potential leaders, coming to ABTS with strong endorsement by their churches, and are committed to going back to their communities to serve and train others. Our students this year come from Morocco, Algeria, Sudan, Egypt, Iraq, Syria, Lebanon, and Armenia.
Our Institute of Middle East Studies (IMES) continues to be a thought leader in approaches of proclaiming the Gospel in our majority Muslim context. IMES's flagship event is still the Middle East Conference (MEC), taking place annually every third week of June. Another exciting accomplishment for IMES this year is the launching of a new Master of Religion in Middle Eastern and North African Studies (MRel). This is a non-residential program and is open to Arabs and non-Arabs. The MRel concept has been brewing for a few years. It's only now that God has brought all the right ingredients for the launch to become a reality.
On the logistics side, God has provided us, through many faithful partners, the ability to upgrade and enhance our infrastructure this year. We were able to install a solar water heating system that will reduce our dependency on fuel; we upgraded our campus phone system; and we were able to furnish all our new students with mini-laptops at the start of their studies.
These are some of the accomplishments of this past year. So, does this mean that because of these achievements our ministry is successful? How can we measure our success? Our Vision and Mission statements are printed above. How do we know that we're fulfilling our Mission statement and are contributing to the fulfillment of the Vision statement? These are some of the questions that persist every year. How can we assess our ministry and measure our success?
We are embarking this year on an exciting new project that will enable us to assess our work more accurately. We will borrow the terminology and methodologies of the community development world; we want to try to develop tools that will help us assess our success at three different levels: output, outcome, and impact.
Our main function is to equip leaders. The output, then, is that leaders are properly and adequately equipped. This is the easiest level of assessment. We have already established graduate profiles for every program that we run, and in our new curriculum we already assess our students at the end of every year based on the graduate profile.
Our Mission at ABTS, however, is not to equip leaders. Our Mission is to serve the Church, and we do that by equipping leaders. Measuring the outcome, therefore, is by finding out whether the churches are being served by our graduates. This level of assessment is a bit harder to achieve. We need to devise the right tools to answer this question. We will work closely with the churches in our region to do that.
The third level of assessment is impact. Are the communities in our region being impacted by the ministry of the churches where our graduates are serving? Of course it's impossible to establish a direct cause-effect relationship. However, we want to try and devise tools that will help us assess the contribution of our graduates in transforming the ministries of their churches into becoming more effective in their communities.
We are very excited about this initiative. Not many small institutions can undertake such a project. But, if we truly believe that our institution is that strategic for ministry in the Arab world, then taking on this project is a must. This is how we can determine whether we're being successful or not. And there's an added value to this project. As we develop the assessment tools we will learn better what makes churches in the Arab world more impactful in their communities, and we will learn what kind of leaders will help transform their churches to have that kind of impact. All this learning can become a very invaluable tool for reshaping our training. The output becomes an input to the learning process. Now, that's exciting.
Friends and partners, pressing on is very difficult when we try to serve on our own in this unstable region with the very limited resources that we have. However, pressing on becomes a joy and a delight when we take hold of that for which Christ Jesus took hold of us (Phil 3:12). Our prayer continues to be that Christ Jesus takes hold of us and our ministry. Only then will we see God glorified, people reconciled, and communities restored through the Church in the Arab world.
Elie Haddad, President
(Published in The Voice Magazine - Issue No. 8)